JCR-UK is a genealogical and historical website covering all Jewish communities and
congregations throughout the British Isles and Gibraltar, both past and present.
NOTE: We are not the official website of this congregation, the address of which appears below.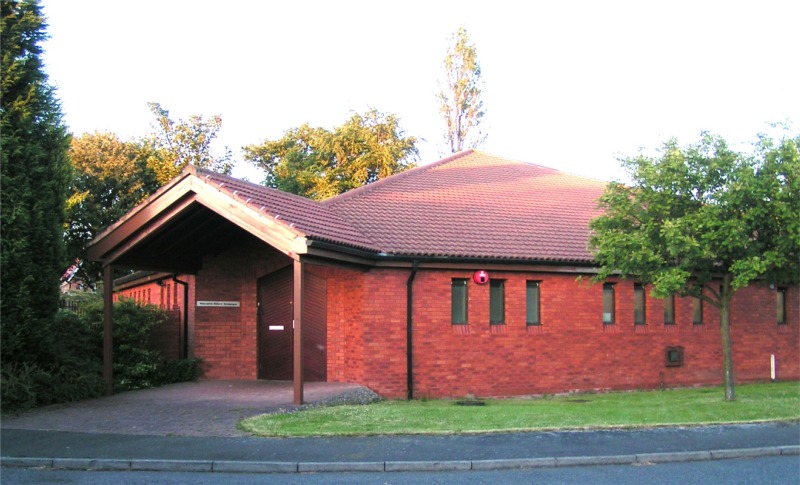 Front of Newcastle Reform Synagogue
(taken by Lindsay Molyneux)
Congregation Data

Name:

Newcastle Reform Synagogue

Hebrew Name:

Ner Tamid ("Perpetual Light")

Address:

The Croft, off Kenton Road, Gosforth NE3 4RE (from 1982)(ii)

Former Addresses:

Temporary addresses (from about 1974 to 1982), in particular Sutherland Hall, Clayton Road, Jesmond, Newcastle upon Tyne, but also members' homes, school halls and church halls.(iii)(iv)

Derby Street (off Barrack Road), Newcastle upon Tyne 4 (from 1963 until about 1974), a former Methodist Hall. These premises were acquired by the local council under a compulsory purchase order, resulting in the congregation having to abandon the building and move into temporary premises.(iv)

Current Status:

Active

Date Founded:

Founded in 1962, largely by former German Jewish refugees and with assistance from Sinai Synagogue, Leeds.(v)

Ritual:

Reform

Affiliation:

A constituent of the Movement for Reform Judaism (formerly known as Reform Synagogues of Great Britain).

Website:

Associated Congregation:

The Darlington Hebrew Congregation Reform Synagogue is closely associated.

Ministers:

(To view a short profile of a minister who also served other UK congregations - name in blue - hold the cursor over his or her name.)

Rabbi David Zucker - from about 1971 until about 1972(viii)

Rabi M. Marcus - from about 1975 until about 1979(ix)

Rabbi William Wolff - from 1986 until 1990(x)

Rabbi M. Yehudai - from about 1991 until about 1994(xi)

Rabbi Francis R. Berry - from about 1994 until about 1999(xii)

Rabbi R. Ash - from about 2002 until about 2008(xiii)

Rabbi Dr. Barbara Marcy Borts - from 2008 until 2012(xiv)

Rabbi Sybil Sheridan - from 2014 until present (January 2020)(xv)

Membership Data:

National Reports and Surveys(xxi)

1977 - 48 male (or household) members and 10 female members

1983 - 52 male (or household) members and 23 female members

1990 and 1996 - 140 household members

2010 - listed as having 100 to 199 members (by household)

2016 - listed as having 50 to 99 members (by household)

Charitable Status:

The congregation is a registered charity (registered charity no. 246816), registered on 3 March 1966. The governing document is the congregation's constitution.(xxii)

Cemetery
Information:

The Congregation has its own cemetery situated (with a prayer house) in a dedicated section of the Preston Road Cemetery, Preston Road North, North Shields. The congregation is also a member synagogue of the Jewish Joint Burial Society (JJBS), through which the congregation's members participate in a burial scheme.

(See Newcastle Cemetery Information on Newcastle home page.)

Notes & Sources (↵ returns to text above)
On-line Articles and Other Material
relating to this Congregation
On JCR-UK
General
Congregational Records

General:

Numerous records of the Jewish Communities in Northeast England (only a sample of which are listed below) are deposited with the Tyne and Wear Archives Service (http://www.legacyarchives.org.uk)

CLICK HERE to view a list of these records (correct to December 2005).

Synagogue Records:

Registration District (BMD):

Group for Marriage Certification:

West London Synagogue.

Worship Number: 70427

Newcastle upon Tyne Jewish Community home page


List of Reform Judaism Congregations
Jewish Congregations in Tyne and Wear
List of Member Synagogues of the Jewish Joint Burial Society
Jewish Communities of England home page

Page created: 9 October 2005
Data significantly expanded and notes first added: 10 September 2019
Latest revision or update: 3 January 2020
---
Explanation of Terms | About JCR-UK | JCR-UK home page

Contact JCR-UK Webmaster:
jcr-ukwebmaster@jgsgb.org.uk
(Note: This is to contact JCR-UK, not the above Congregation)

Terms and Conditions, Licenses and Restrictions for the use of this website:
This website is owned by JewishGen and the Jewish Genealogical Society of Great Britain. All material found herein is owned by or licensed to us. You may view, download, and print material from this site only for your own personal use. You may not post material from this site on another website without our consent. You may not transmit or distribute material from this website to others. You may not use this website or information found at this site for any commercial purpose.


Copyright © 2002 - 2023 JCR-UK. All Rights Reserved