Page created: 22 March 2003
Latest revision or update: 22 November 2021
City of Portsmouth
The city of Portsmouth, with a population of about 195,000, is an important naval port on the south coast of England, sitting almost opposite the Isle of Wight. Most of actual city of Portsmouth lies on Portsea Island. Portsmouth, a unitary authority since 1996, lies geographically within the county of Hampshire. From 1974 to 1996, it formed a local government district in the administrative county of Hampshire and, prior thereto, it was a county borough in Hampshire. Southsea is a neighbourhood of Portsmouth, that has its own town council with very limited powers.
The Jewish Portsmouth Community
Portsmouth is one of the oldest Jewish communities in Britain, having been established in 1746, and during the early nineteenth century, was one of the four major Jewish congregations outside London.
Congregation Data

Name:

Portsmouth and Southsea Hebrew Congregation

Former Name:

Portsmouth Hebrew Congregation (until about 2001)

Address:

The Thickett, Elm Grove, Southsea PO5 2AA

Previous Addresses:

White's Row, off Queens Street, Portsea, in use from 1749 until 1936. Until it closed, it was the oldest provincial synagogue still in use.

From 1766 until about 1789, there was a split in the community resulting in a rival community.

Previously, Oyster Row (from about 1746 until about 1749)

Current Status:

Active

Date Formed:

1746

Ritual:

Ashkenazi Orthodox

Affiliation:

A provincial synagogue under the aegis of the Chief Rabbi.

Marriage Certification:

Group: Board of Deputies;
Appears in 1998 General Registrar Official List: Yes;
Worship Number: 57016;
Registration District: Portsmouth

Web Site:

Membership Data:

1845 - 22 ba'alai batim and 20 seatholders (Chief Rabbi's Questionnaire)

1851 - 160 appropriated seats (C. Roth, The Rise of Provincial Jewry)

1896 - 82 seatholders (The Jewish Year Book 1896/7)

1898 - 104 seatholders (The Jewish Year Book 1898/9)

1900 - 117 seatholders (The Jewish Year Book 1900/1)

1905 - 180 seatholders (The Jewish Year Book 1906)

1915 - 150 seatholders (The Jewish Year Book 1916)

1999 - 96 (Board of Deputies)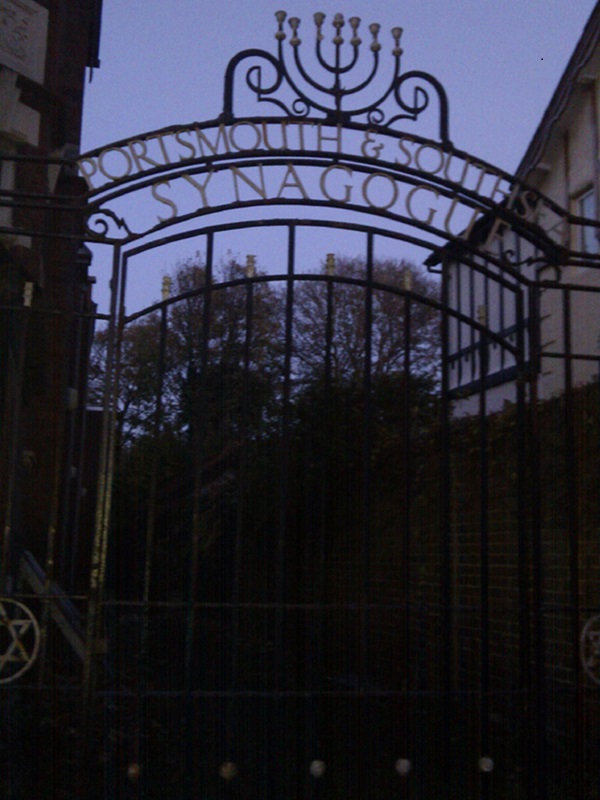 ęDavid Shulman 2012
A photograph of the gate to Portsmouth & Southsea Synagogue,
taken at twilight, November 2012

On-line Articles and Other Material
relating to the Portsmouth Jewish Community
on JCR-UK
on third parties'websites
Other Portsmouth Jewish Institutions & Organisations
(that had been formed by 1900*)
Educational & Theological
Aria College (founded 1874 in accordance with the will of he late Lewis Aria) 'for the training and maintenance of young men as Jewish divines on orthodox Judaical principles.'

Portsea Hebrew Educational classes (founded 1862).
Other Institutions & Organisations
Portsmouth and Portsea Hebrew Benevolent Institution (founded 1804) for the weekly relief of the poor, resident in the Borough for at least five years.

Ladies Benevolent Society (founded about 1770) for granting medical attention and allowances during week of mourning. etc

Jewish Almshouses (built 1857) for providing an asylum for the resident Jewish poor of Portsmouth.

Anglos-Jewish Association Branch (founded by 1896)

Chovevei Zion Branch (founded 1898)

Chevra Bikur Cholim (founded by 1897) to visit the sick and relieve the poor.
* As listed in the Jewish Directory of 1874 and the Jewish Year Books 1896 & 1900.
Portsmouth Jewish Cemetery Information
Portsmouth has the following Jewish cemeteries.
Portsmouth Old Jews' Burial Ground, Jews' Lane, Fawcett Road, Southsea.

Acquired by the Portsmouth Hebrew Congregation in 1749 and subsequently extended. It is the oldest fnctioning cemetery in the provinces.

Kingston Cemetery, Jewish Section, New Road, Copnor Bridge, Portsmouth.

Contains about 100 graves, the earliest dating from 1902.
- the cemetery is a Grade II Registered Park and Garden (number 1001679), designated on 5 November 2003. (View description on Historic England website.)

Catherington Lane Cemetery, Jewish Section, Horndean, Waterlooville

Current burial ground of the community, opened 1988.
(For additional information, see also IAJGS Cemetery Project - Portsmouth & Southsea)
Portsmouth Jewish Population Data

1895-1900

500

(The Jewish Year Books 1895/6 through 1900/01)

1919

800

(The Jewish Year Book 1920)

1934

800

(The Jewish Year Book 1935)

1945

600

(The Jewish Year Book 1946)

1965

600

(The Jewish Year Book 1966)

1990

385

(The Jewish Year Book 1991)

2004

235

(The Jewish Year Book 2005)

Jewish Congregations in Hampshire