JCR-UK is a genealogical and historical website covering all Jewish communities and
congregations throughout the British Isles and Gibraltar, both past and present.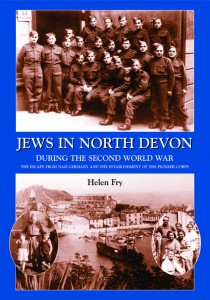 Cover of Book by Helen Fry,
published 2005
Town of Ilfracombe
Ilfracombe is a seaside town on the north coast of Devon in southeast England overlooking the Bristol Channel and has a population of about 11,000. Until 1974, Ilfracombe was an urban district within the county of Devon. In that year it merged with a number of neighbouring localities to form the District of North Devon, a local government district of the county of Devon.
Ilfracombe and North Devon Jewish Community
During World War II there were a number of Jewish evacuees and refugees resident in and around Ilfracombe, who formed a Congregation, which was augmented from the end of 1942 by the large number of Jewish soldiers among the US troops stationed in the area. The book, Jews in North Devon During the Second World War (2005) by Helen Fry, is the principle work on the subject.
Congregation Data

Name:

Ilfracombe Hebrew Congregation

Address:

1st Floor, Capstone Hotel, St James's Street, Ilfracombe.(iii) High holy day services were held at the Garrison Theatre.(iv)

Services were also occasionally held in Barnstaple and Westward Ho!(v)

Formation and Numbers:

The congregation was founded during World War II, in about 1940. The number of congregants attending Sabbath services swelled to over 100 with the arrival from late 1942 of a large number of US forces in North Devon, many of whom were Jewish. The New Year and Yom Kippur services were attended by over 1,000.(vi)

Closure:

The synagogue was dismantled and the congregation closed in 1945. The ark was still visible on the east wall of the former synagogue when the Capstone Hotel was sold in 1946.(vii)

Affiliation:

The congregation was not known to be affiliated to any synagogue organisation.

Ritual:

Ashkenazi - Orthodox

Ministers in Ilfracombe:
(To view a short profile of a minister - hold the cursor over his name.)

Rev. Cecil Moses Bloch - liaison and education officer for North Devon, under the Joint Emergency Committee, with his headquarters at Ilfracombe, from about 1941 until 1942.(x)

Rev. Benjamin Bernard Wykansky - minister, reader and hon. secretary from about 1941/2 until 1945.(xi)

Lay Officers:

In 1941(xii)

J. Fairlight - President

Hyman Schneider - Vice President

I. Rose - Treasurer

In 1945(xiii)

J. David Fairlight - President

Hyman Schneider - Vice President

M. Press - Treasurer

Registration District (BMDs):

Devon (since 1 April 2007)(xv) - Link to Register Office Website.

However, the only known religious Jewish wedding to take place in Ilfracombe (in 1945) was entered into the Exeter Synagogue Marriage Register.(xvi)

Cemetery Details

There is no known Jewish cemetery in North Devon.
Online Articles and Other Material relating
to relating to the North Devon Jewish Community
on JCR-UK
on Third Party websites
Notable Jewish Connections with North Devon
In 1940 and 1941 approximately three thousand German and Austrian refugees trained in North Devon as new recruits to the British Army's Pioneer Corps. Many of them were Jewish and recently released from British internment camps. Some were billeted at Westward Ho! and Bideford, but the majority in Ilfracombe.(xx) It was reported in 1941 that over a thousand Pioneers attended a meeting in aid of the Palestine Victory Campaign at the Alexander Hall, Ilfracombe. Theodor [Teddy] Kollek, future Mayor of Jerusalem, was one of the visiting speakers.(xxi) Amongst the Jewish refugees billeted in or near Ilfracombe, which also included six Nobel laureates, were:

Sir Kenneth Adam, OBE (1921-2016), a movie production designer, best known for his set designs for the James Bond films of the 1960s and 1970s.

Martin Freud (1889-1967), eldest son of Sigmund Freud and a writer.

Arthur Koestler, CBE (1905-1983), writer.

Robert Maxwell (1923-1991), business and newspaper tycoon and fraudster.

Sisters, actress Dame Joan Collins (b. 1933) and authoress Jackie Collins, OBE (1937-2015), whose father was Jewish, were schooled in Ilfracombe and boarded in the town.(xxii)

Peter Sellers (1925-1980), the actor and comedian, was evacuated during World War II with his mother, who was Jewish, to Ilfracombe, where his maternal uncle managed the Victoria Palace theatre and remained in the town three years.(xxiii)
Other North Devon Jewish Institutions & Organisations
Bydown House in the tiny hamlet of Bydown, near Swimbridge, a village five miles from Barnstaple, was an agricultural training farm for refugees preparing to settle in pre state Israel.(xxiv)

Braunton Youth Aliyah Training Centre, a war-time refugee hostel for Jewish youth, was located at 62 South Street in the coastal village of Braunton, about seven miles south of Ilfracombe. (xxv)

Ilfracombe Jewish Ladies Guild - founded by 1945(xxvi)
Notes & Sources
(↵ returns to text above)
World War II Evacuee Communities
Page created: 2 May 2006
Data significantly expanded and notes first added: 25 January 2023
Page most recently amended: 10 September 2023
Research by David Shulman and Steven Jaffe
Formatting by David Shulman
---
Explanation of Terms | About JCR-UK | JCR-UK home page
Contact JCR-UK Webmaster:
jcr-ukwebmaster@jgsgb.org.uk


Terms and Conditions, Licenses and Restrictions for the use of this website:
This website is owned by JewishGen and the Jewish Genealogical Society of Great Britain. All material found herein is owned by or licensed to us. You may view, download, and print material from this site only for your own personal use. You may not post material from this site on another website without our consent. You may not transmit or distribute material from this website to others. You may not use this website or information found at this site for any commercial purpose.


Copyright © 2002 - 2023 JCR-UK. All Rights Reserved