JCR-UK is a genealogical and historical website covering all Jewish communities and
congregations throughout the British Isles and Gibraltar, both past and present.
NOTE: We are not the official website of this congregation, which can be reached by clicking on the congregation's logo below.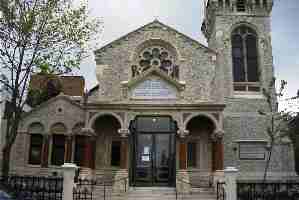 Chatham Memorial Synagogue
Chatham and the Borough of Medway
The Kentish towns of Rochester and Chatham had been major ports for hundreds of years, with ships trading to and from Baltic, North European and the Low Countries. Chatham was also a naval dockyard from the mid-sixteenth century until 1984 when the dockyard was closed.
Both towns together with Gillingham and one or two other small towns near the Thames estuary in southeast England, now form a single conurbation, and are known as the Medway Towns, named after the river Medway on, or close to which, the towns are situated.
In 1974, the local government district, known as the Borough of Medway, was formed, within the county of Kent, by the merger of the municipal boroughs of Rochester (a cathedral town that then had City status) and Chatham, together with adjoining areas. In 1979, it was renamed the Borough of Rochester-upon-Medway, and in 1982, the City of Rochester-upon-Medway. In 1998, it was enlarged by the incorporation of the adjacent district of Gillingham, was renamed the Borough of Medway and become a unitary authority.
Medway Jewish Community(i)
There had also been a medieval Jewish community in Rochester dating from at least 1187 possibly until the expulsion in 1290.
After the seventeenth century readmission of Jews into Britain, Jews again began to settle in the Medway ports attracted by naval shipyard in Chatham and the opportunities for trade, and by the mid-eighteenth century, Chatham acquired a community "of Jewish slop-sellers – traders in old clothes and bedding - who later became Navy agents, jewellers, opticians and shop-keepers."(ii)

Congregation Data

Present Synagogue and Address:

Chatham Memorial Synagogue (previously known also as Magnus Memorial Synagogue(v))
at 366 High Street, Rochester, Kent ME1 1DJ

The present synagogue was was built in memory of Captain Lazarus Simon Magnus (1826-1865) by his father Simon Magnus, a silversmith and pawnbroker of Chatham, who had acquired the freehold of the plot (with the attached burial ground) in 1867. The foundation stone of the synagogue was laid on 5 October 1868 and the synagogue was consecrated on 17 June 1870 by the Chief Rabbi, Rev. Dr. Nathan Adler.(vi)

In 1923 the synagogue was reconsecrated following extensive renovation and restoration and in the late 1960s the premises were extended by the construction of a social and youth centre following the demolition of the neighbouring minister's house.(viii)

The interior has recently been renovated at a cost of £110,000 thanks to a donation from a member and support from Medway council and English Heritage.(xi)

The synagogue is a Grade II* Listed Building, listed on 2 December 1985 (number 1086467). See Historic England Listing & Description.

Previous Synagogue:

The present synagogue replaced the previous synagogue, Chatham Synagogue (also known as the Cottage Jews' Tabernacle Synagogue(xi)), which had existed on roughly the same site as the present synagogue at 366 High Street, for "upwards of a century".(xii) It was described in 1847 as "a small building of brick and wood, about one hundred years old, with a clock, visible from the High Street, noteworthy for having a face with Hebrew characters".(xiii)

The first recorded mention of the synagogue is in a deed dated 1770, when a tenant of St. Bartholomew Hospital, Rochester, sublet part of his property to a number of Jewish resident of Rochester and Chatham for use a synagogue.(xiv)

The district in which the synagogues were built was an unadopted area between Chatham and Rochester, known as "Chatham Intra", or "Chatham Without", which was taken into Rochester in about 1880. (xviii)

Date of Formation:

The congregation was established in about the 1750s.(xx)

Status:

Active.(xxi)

Ritual:

Ashkenazi Orthodox

Affiliation:

The congregation is unaffiliated but is under the aegis of the Chief Rabbi. However, there may have been an affiliation to the United Synagogue in the early 1950s.(xxii)

Website:

Ministers & Readers: (To view a short profile of a minister or reader whose name appears in blue - hold the cursor over his name.)

Rev. Berliner (or Barlin) - reader from about 1802 until about 1807(xxvi)

Rev. Abraham Lyon Benjamin - from about 1808 until 1825(xxvii)

Rev. Jehiel Phillips - from some time between 1826 and 1838 until 1854(xxviii)

Rev. Lazarus Pollack (or Polack) - from 1854 until 1884(xxix)

Rev. W. Barron (or Barren) - from 1884 until 1885(xxx)

Rev. Bernard Joshua Salomons - from August 1885 until 1897(xxxiii)

Rev. Moses David Isaacs - from about 1897 until about 1903(xxxiv)

Rev. Marks Fenton - from 1903 until 1919(xxxv)

(Rev. J. Erlich - accepted post of minister in March 1919, but probably did not take up the post(xxxvi))

Rev. Joseph Babitz (or Babity) - from 1920 until 1923(xxxvii)

Rev. Abraham Samet - from 1923 until 1929(xl)

Rev. Samuel Wolfe - the last resident minister, from 1929 until 1942(xli)

Lay Officers in 1874:

Listed in The Jewish Directory of 1874, edited by Asher I. Myers:

Wardens - Simon Magnus; Asher Lyons, Jnr

Lay Officers from 1896:

The data on the lay officers of the congregation has been extracted listings in Jewish Year Books, first published 1896/7.(xlv)

Presidents

1896-1900 - Isidore Berliner

1900-1924 - John Simon Lyon

1924-1956 - S. Halpern(xlvi)


Chairman

1947-1956 - L. Morris


Vice Presidents

1902-1907 - S.B. Barnard

1907-1911 - L.B. Barnard

1945-1949 - S. Freedland(xlvii)

1949-1956 - J. Taylor


Wardenss

1931-1934 - S. Gergel

1934-1938 - L. Lewis


Treasurers

1896-1900 - Isidore Berliner

1900-1924 - John Simon Lyon

1924-1934 - G. Posner

1934-1952 - I.L. Packer(xlviii)

Secretaries & Hon. Secretaries

1896-1898 - Rev. Bernard J. Salomons

1905-1919 - Rev. Marks Fenton

1924-1930 - I. Geigel

1930-1934 - J.L. Packer

1934-1940 - L. Morris(xlix)

1940-1946 - no data

1946-1948 - M. Cohen

1948-1949 - David Gee

1949-1952 - F. Alper

1952-1953 - H. Hurst

1953-1956 - J. Rosen

1956-1958 - H. Cooper

1958-1968 - G. Lancaster

1968-1969 - N. Wolfe

1969-1970 - Dr E. Taylor

1970-1972 - Mrs J. Faull

1972-1976 - G. Lancaster

1976-1980 - L. Hack

1980-1981 - G. Lancaster

1981-1984 - A. Myers

1984-1990 - G. Lancaster

Membership Data:

1845 - 16 Ba'alai batim and 40 seatholders.

Board of Deputies Returns - number of seatholders(liii)

| | | | | | |
| --- | --- | --- | --- | --- | --- |
| 1852 | 1860 | 1870 | 1880 | 1890 | 1900 |
| 30 | 31 | 34 | 30 | 15 | 10 |

Jewish Year Books(liv)

| | |
| --- | --- |
| 1896 - 15 seatholders | 1899 - 10 seatholders |

National Reports and Surveys(lv)

1977 - 46 male (or household) members and 3 female members

1983 - 51 male (or household) members and 20 female members

1990 - 63 members (comprising 49 households, 7 individual male and 7 individual female members)

1996 - 36 members (comprising 19 households, 1 individual male and 16 individual female members)

2010 and 2016 - listed as having under 50 members (by household)

Charitable Status

The congregation is a registered charity (no. 800902), under the name Chatham Memorial Synagogue, registered on 19 April 1989. The governing document is a Conveyance dated 2 August 1870, as varied by a scheme of 16 March 1971(lvi).
Online Articles, Photographs and Other Material
relating to the Medway (Chatham & Rochester) Jewish Community
on JCR-UK
on Third Party Websites

Notable Jewish Connections with the Medway towns
Daniel Barnard (1825-1879), the proprietor of the Railway Saloon and music hall, Chatham (known as Barnard's Palace of Varieties), was born and died in Chatham. He was High Constable of Chatham, Chairman of its Court Leet and founder and Captain of Chatham Fire Brigade.

Phineas Cowan (1832-1899), elected sheriff of London in 1883, was born in Chatham.

Samuel Isaac (1812-1886), the principal Promoter of the Mersey Tunnel, near Liverpool, was born in Chatham.

Saul Isaac (1823-1903), the brother of Samuel Isaac, was M.P. for Nottingham from 1874 to 1880 and was born in Chatham.

Lazarus Simon Magnus (1926-1865), whom Chatham Memorial Synagogue commemorates, was a captain in the 4th. Kent Artillery Volunteers, a director of the Chatham Railway and elected as Mayor of Queenborough, a town on the Isle of Sheppey in 1858, 1859 and 1862. He was instrumental in bringing the railway to Sheerness and Queenborough.

Jewish Mayors of Chatham:

G.H. Leavey was elected mayor 1895;

G.A. Rosenburg was elected mayor 1925 and 1926

Jewish Mayors of Rochester:

John Lewis Levy (d.1871) was elected mayor in 1860;

Lewis Levy (same family) was elected mayor in 1874, 1885 and 1886.

Charles Dickens, in The Pickwick Papers, noted that "the principal productions of these [Medway] towns are soldiers, sailors, Jews, chalk, shrimps, officers and dockyard men."
Educational & Theological
Other Institutions & Organisations

Chatham & Rochester Jewish Cemetery Information
Jewish Cemeteries in Chatham and Rochester:
Chatham Old Jewish Burial Ground (actually situated in Rochester). It is behind the synagogue at 366 High Street, Rochester ME1 1DJ and is the only cemetery in the UK attached to a synagogue.)(lxiv) It was in use from the 1780s.
Jewish Heritage Sites:

Article: - Chatham Cemetery, by Martyn Webster, includes an introductory article to the Chatham Cemetery database (above).

Chatham Municipal Cemetery, Jewish Section (Note: this should not be confused with the Jewish Cemetery in Chatham-Kent, Ontario, Canada.)
(For some additional information, also see IAJGS Cemetery Project - Chatham & Rochester)
Chatham Jewish Population Data

1896

70

(The Jewish Year Book 1896/7)

1901

67

(The Jewish Year Book 1901/2)

1903

93

(The Jewish Year Book 1903/4)

1904

96

(The Jewish Year Book 1904/5)

1907

105

(The Jewish Year Book 1907/8)

1908

111

(The Jewish Year Book 1909)

1914

100

(The Jewish Year Book 1915)

1965

about 150

(The Jewish Year Book 1966)

1970

about 200

(The Jewish Year Book 1971)

1984

about 100

(The Jewish Year Book 1985)

1990

about 150

(The Jewish Year Book 1991)

1991

about 100

(The Jewish Year Book 1992)

1995

about 50

(The Jewish Year Book 1996)
Notes & Sources
(↵ returns to text above)

Page created: 25 July 2003
Data significantly expanded: 5 May 2017
Data further significantly expanded and notes first added: 26 October 2021
Latest revision or update: 31 March 2023
---
Explanation of Terms | About JCR-UK | JCR-UK home page
Contact JCR-UK Webmaster:
jcr-ukwebmaster@jgsgb.org.uk


Terms and Conditions, Licenses and Restrictions for the use of this website:
This website is owned by JewishGen and the Jewish Genealogical Society of Great Britain. All material found herein is owned by or licensed to us. You may view, download, and print material from this site only for your own personal use. You may not post material from this site on another website without our consent. You may not transmit or distribute material from this website to others. You may not use this website or information found at this site for any commercial purpose.


Copyright © 2002 - 2023 JCR-UK. All Rights Reserved