JCR-UK is a genealogical and historical website covering all Jewish communities and
congregations throughout the British Isles and Gibraltar, both past and present.
NOTE: We are not the official website for this community.

City of Brighton and Hove
The Sussex seaside resort of Brighton (originally known as Brighthelmstone) and adjoining Hove to its west, on England's south coast, have a population of nearly 250,000. Until 1974, Brighton was a county borough and Hove, a the municipal borough in the county of East Sussex. They were then united to form the district of Brighton & Hove in the county of East Sussex. In 1997, Brighton & Hove became a unitary authority, and in 2000 it was granted city status.
The Brighton and Hove Jewish Community(iii)
Brighton & Hove has the fifth largest Jewish community in the United Kingdom, and there exists a local Jewish Representative Council, which now covers all of Sussex. The first record of a Jewish resident in Brighton was in 1766(iv) and the earliest Synagogue (in Jew Street) was established in 1792.
Jewish Congregations
The following are the Jewish congregations that exist or existed in Brighton and Hove:


* An active congregation.
The following are former or alternative names of the above congregations:

The records in the database associated with Brighton and Hove include:
UK Jewish Communal Leaders Database

Jewish Directory for 1874 (24 Brighton records);

Jewish Year Book 1896/97 (6 Brighton records)

JCR-UK Listings (41 Brighton records - as of 30 September 2021);

1851 Anglo Jewry Database (updated 2016)

Individuals in the 1851 Anglo Jewry Database who were living in:
Brighton during the 1770s (2 records), 1780s (2 records), 1790s (3 records), 1800s (11 records), 1810s (11 records), 1820s (30 records), 1830s (73 records), 1840s (95 records), 1850s (141 records), 1860s (75 records), 1870s (64 records), 1880s (44 records), 1890s (33 records), 1900s (23 records) and 1910s (12 records); and
Lewes during the 1800s (2 records), 1810s (3 records) and 1850s (4 records).
Online Articles and Other Material
relating to the Brighton and Hove Jewish Community
on JCR-UK

Some Notable Jewish Connections with Brighton and Hove
Ivor Kieth Caplin (b. 1958) was the Labour MP for Hove (1997-2005) and the first Jewish MP for a Brighton or Hove constituency.

Ruth Lawrence-Neimark (b. 1971), was a child maths prodigy born in Brighton, who joined St Hughs College, Oxford, in 1983, aged 12. She graduated in 1985 with a starred first as the youngest graduate of the university in modern times. She teaches at the Hebrew University, Jerusalem, Israel.

Jewish Mayors of Brighton or Hove:

Alfred Feld was Mayor of Brighton (1978-1979)

Norman N. Freedman was Mayor of Hove (1969-1970)

Barnett Marks (1863-1944), an active member of the Brighton Hebrew Congregation and local charities (both Jewish and non-Jewish) was the first Jewish Mayor of Hove (1910-1913)

Jewish Names on the Buses
Since 1999 the Brighton and Hove Bus and Coach Company has named every new bus that enters the fleet after a deceased person who has made a significant contribution to the area or had a strong connection during his or her lifetime. The names of those honoured are listed here, with a link to a short profile and, where available, photographs. By 2016, some 200 individuals had so far been honoured and Godfrey R. Gould(v) identified 22 of these as Jewish or of recent Jewish descent. These are the following:

George Basevi; Dr. Julius Carlebach; Levi Emanuel Cohen; Lord Cohen; Baron Goldsmid; Alfred Feld; Norman Freedman; Sir John Howard; David Jacobs; David Land; Harry Leader; Sir George Lewis; Samuel Lewis; Eleanor Marx; David Mocatta; Harold Poster; Sir Edward Sassoon; Ben Sherman; Sir Hans Singer; Dr. Herzl Sless; Henry Solomon; and Jack Solomons.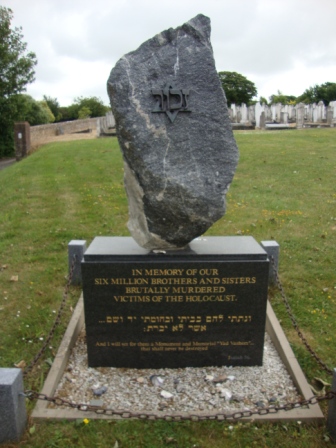 Holocaust Memorial at Brighton Meadowview Jewish Cemetery
(© 2011 Gina Marks)

Other Brighton Jewish Institutions & Organisations
(apart from institutions closely connected to the Hove Hebrew Congregation)
Educational & Theological
Welfare Organisations
Cultural, Social, Youth and Sports Organisations
The Brighton and Hove Jewish Literary and Social Society(xlv) was active until about 1933 (see below). It was the successor to the Jewish Literary and Debating Society (pre-World War I),(xlvi) the Jewish Literary and Social Society (early 1920s)(xlv) and the Jewish Social Society (late 1920s).(xlvii) Later, following World War II and in the early 1950s, a Jewish Literary Society was re-established.(xlvii)

Brighton and Hove Maccabi was established in June 1934 when the Brighton and Hove Jewish Club became formally affiliated to the British Maccabi Association. The club had been formed a year or two earlier on the merger of the Brighton Jewish Sports Club and the Brighton and Hove Jewish Literary and Social Society (see above). In 1936 it had been planned that Brighton would host the Maccabi World Games, but these were cancelled. Among its activities were a Cricket Club and a Football Team (both active from at least 1934). It remained in existence on and off until the 1960s and was revived in the 1990s.(xlix) It was one of the organisations incorporated into the Brighton & Hove Jewish Centre (see below).

Other Sports Institutions:

Other Youth Organisations:

Scouts. The first Jewish Scout troop (the 20th Brighton (Jewish) Troop) was founded in Brighton by 1925 and probably continued until the outbreak of World War II. A scouts troop (the 52nd Brighton Scouts Troop and Cub Pack) was reestablished at the Middle Street synagogue in 1955. In the late 1950s it moved to the New Church Road premises and became the 15th Hove (Jewish) Troop and later moved to a church hall near Seven Dials and subsequently to Ralli Hall. It disbanded in the late 1980s. The was also a short-lived Brownie pack in the 1960s.(liv)

A company of the Jewish Lads Brigade was formed in Brighton in 1934 but appears to have been disbanded during World War II. It was restarted in 1972 as the Jewish Lads and Girls Brigade and continued until the mid-1980s.(lv)

Club Shalom - formed in 1969 as a youth club. Activities included music and discos, talks, snooker, subbuteo as well as a football team. the club closed in the late 1970s.(lvi)

The Jewish Ladies Society (1920s and 1930s)(lix)

Ralli Hall, 82 Denmark Villa, Hove BN3 3ST, is a non-denominational community and social centre, hosting many Jewish events. It was acquired in 1975, initially as a Jewish youth centre, by the Brighton and Hove Jewish Youth Council, which later changed its name to the Brighton and Hove Jewish Community Foundation (Registered Charity number 269474, registered on 18 June 1975) and was formally opened by singer Frankie Vaughan on 30 June 1976. From its earliest days it hosted the Friendship Club for senior citizens and gradually the emphasis changed from youth to senior activities. It also hosted a number of services for the Hebrew Congregation, while the synagogue in New Church Road was closed for major redevelopment (2020-2023). The Hall was built in 1913 as a memorial to Stephen Ralli, a member of a wealthy Greek family, and is a Grade II Listed Building (number 1298671), designated on 2 November 1992. View description on Historic England website.
Other instutions hosted at Ralli House include:(

l

x)

the Ralli Hall Lunch and Social Club (Registered Charity number 1142922, registered on 18 July 2011, and private company by limited by guarantee, number 07451576);

the Ralli Hall Amateur Theatre Society;

the New Ralli Bridge Club;

the Jewish Community Society; and

Brighton and Hove Maccabi.

A branch of the Anglo-Jewish Association had existed in Brighton from as early as 1900 and as late as the late 1950s, although it is not clear whether such existence was continuous.(lxi)

A branch of the Association of Jewish Ex-Servicemen and Women (AJEX) was founded in the Brighton area immediately following World War II.(lxii)

The Jewish Arts Society (until 2003 the Brighton and Hove Jewish Community Arts Society) was founded in 1981.(lxiii)

The Jewish Association of Cultural Societies (JACS) was established in Hove in 1988.(lxiv)

Brighton Union of Jewish Students (formerly the Jewish Students Association) - the University of Sussex Jewish Society - was established shortly after the opening of Sussex University in 1965.(lxv)

Brighton Hillel House - residential accomodation for Jewish students - was established in 1968, when two houses (former an engineering apprentice hostel) in Harrington Hill (near Preston Park) were purchased and converted to a students residence. Student accommodation needs gradually changed and the Harrington Road premises were sold. In 2012 a students drop-in centre was opened at the rear of the Middle Street synagogue.(lxvi)

B'nai B'rith Brighton and Hove Lodge No. 1182, founded in 1933 and active until at least the late 1970s. A young adults chapter was founded in 1964 lasting until the mid-1970s and there was also Brighton B'nai B'rith Youth Organisation (BBYO) started in the late 1970s, active until at least the 1990s.(lxvii)

B'nai B'rith Ladies Lodge No. 145, founded in about 1935 and combined with the men's lodge in the 1970s.(lxviii)

Jewish Historical Society of England, Sussex Branch, established in 2004.(lxix)

Jewish Women Friends of Sussex, an unaffiliated forum for women, founded in 2003, which meets regularly to discuss a wide range of topics and interests.(lxx)
Israel & Zionist Organisations
JNF/JIA - Brighton already had Jewish National Fund (JNF) Commission representative in the 1920s.(lxxii) There was a joint committee of both the JNF and the Joint Israel Appeal - JIA (previously the Joint Palestine Appeal - JPA) in Brighton until the 1970s, after which the were run as separate committees. Beginning in the 1990s, funds for these organisations tended to be raised centrally and much of the work of the local committees ceased.(lxxiii) There was a JIA Ladies' Committee from at least the mid-1990s until at least 2006.(lxxiv)

The Brighton & Hove Youth Aliya Committee (formerly the Children and Youth Aliya Committee) was formed in 1950 and continues to function.(lxxv)

Zionist Organisation:

A Zionist Society had been formed in Brighton by 1923(lxxvi) and continued to be active until at least World War II. There was a Zionist Central Council from at least the early 1980s until at least the early 1990s.(lxxvii) World Jewish Congress (WJC)(lxxviii) was represented in Brighton and Hove in the mid/late 1950s as well as a Young Zionist Society.(lxxxix)

A Women's Zionist Society existed from at least 1929 until World War II.(lxxxii) There followed a number of women Zionist organisations, including the Federation of Women Zionists (mid/late 1950s)(lxxxiii), a branch of WIZO (Women's International Zionist Organisation) (late 1950s)(lxxxiv) and, most recently, Sussex WIZO Ziona (by 2005).(lxxxv)

Other Funding of Israeli Institutions:
Religious Institutions
Miscellaneous

Brighton and Hove Jewish Cemeteries Information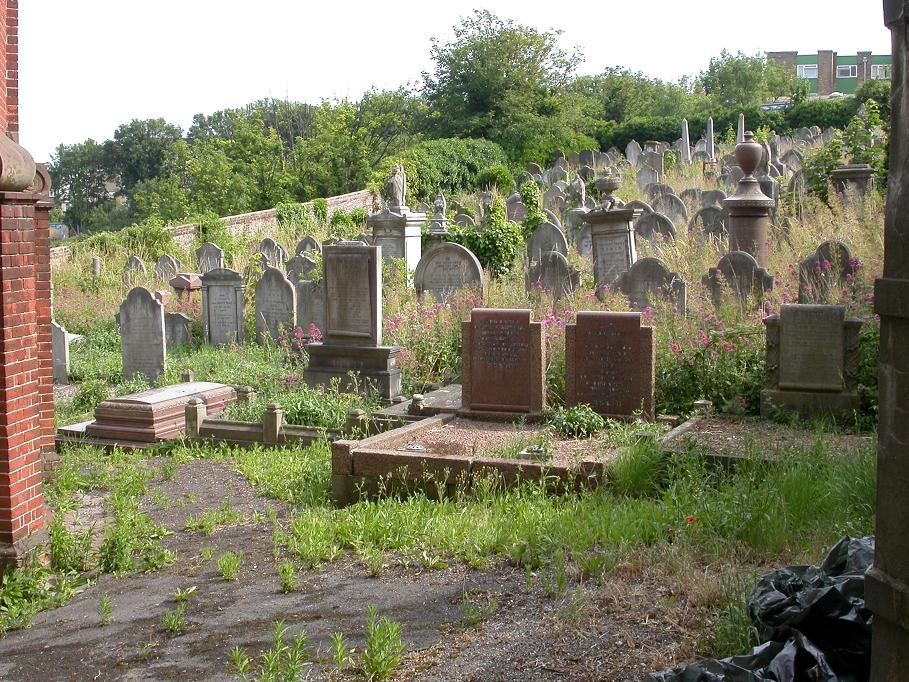 Florence Place Jewish Cemetery
Brighton and Hove have the following Jewish cemeteries:
Florence Place Old Jewish Burial Grounds, off Ditchling Road, Brighton BN1 7GU. This is the original Orthodox Jewish cemetery, opened in 1826. The land had been donated to the Jewish community by Thomas Read Kemp.
The cemetery ohel (number 1380504), the gates and walls (number 1380505) and a lamp post outside the cemetery (number 1380506) are all Grade II Listed Buildings since 26 August 1999. To view descriptions on the Historic England website, click here, here and here, respectively.

Bear Road (Meadowview) Jewish Cemetery, Meadowview Road, Bevendean Road, Brighton, Brighton BN1. The Orthodox Jewish cemetery currently in use, opened in 1920 and enlarged in 1978.

Hove Cemetery, Jewish Sections, Old Shoreham Road, Hove This is the cemetery of Brighton's non-Orthodox congregations, the Brighton & Hove Reform Synagogue and Brighton & Hove Progressive Synagogue.
In addition, the structure at 83 St. George's Road and Paston Place, Kemp Town, Brighton, BN2 1EF (now part of Hanbury Arms public house) was the Mausoleum of Sir Albert Sassoon Family (erected 1869, remains removed 1933). It has been a Grade II Listed Building (number 1380706) since 13 October 1952. View description on Historic England website.
(For additional information, see IAJGS Cemeteries Project - Brighton)

Brighton and Hove Jewish Population Data

Year

Number

Source
1813

only 9 adult male Jews

(Brighton Herald 1813)

1851

estimated 150

(C. Roth - The Rise of Provincial Jewry)

1896

estimated 60 families

(The Jewish Year Book 1896/7

1898

estimated 70 families

(The Jewish Year Book 1898/9)

1900

estimated 80 families

(The Jewish Year Book 1900/01)

1901

estimated 90 families

(The Jewish Year Book 1901/02)

1904

estimated 100 families

(The Jewish Year Book 1904/5)

1912

115 families

(The Jewish Year Book 1913)

1915

150 families

(The Jewish Year Book 1916)

1919

200 families

(The Jewish Year Book 1920)

1923

350 families

(The Jewish Year Book 1924)

1929

1,525

(The Jewish Year Book 1935)

1945

2,500

(The Jewish Year Book 1945/6)

1950

4,500

(The Jewish Year Book 1951)

1966

7,500

(The Jewish Year Book 1967)

1974

10,000

(The Jewish Year Book 1975)

1987

12,000

(The Jewish Year Book 1988)

1990

10,000

(The Jewish Year Book 1991)

1996

8,000

(The Jewish Year Book 1997)

2001

3,358*

(2001 Census results)

2011

2,670*

(2011 Census results)

2021

2,455*

(2021 Census results)

*The 2001, 2011 and 2021 census result figures represent those who answered the voluntary question 'What is your religion?' by clicking the category 'Jewish' among the eight check-box options (another of which was 'No religion'). However, between 6.0% to 7.7% of the population nationally did not answer the question and the figure would not have included those who considered themselves Jews by ethnicity but not by religion, and accordingly the actual number of Jews would be higher than the figures shown.
Notes & Sources
(↵ returns to text above)

Jewish Congregations in East Sussex
Jewish Communities of England home page

Page created: 2003
Data significantly expanded and notes first added: 15 September 2022
Page most recently amended: 2 October 2023
Research and formatting by David Shulman
---
Explanation of Terms | About JCR-UK | JCR-UK home page
Contact JCR-UK Webmaster:
jcr-ukwebmaster@jgsgb.org.uk
(Note: This is to contact JCR-UK, not the above Community or Congregation)

Terms and Conditions, Licenses and Restrictions for the use of this website:
This website is owned by JewishGen and the Jewish Genealogical Society of Great Britain. All material found herein is owned by or licensed to us. You may view, download, and print material from this site only for your own personal use. You may not post material from this site on another website without our consent. You may not transmit or distribute material from this website to others. You may not use this website or information found at this site for any commercial purpose.


Copyright © 2002 - 2023 JCR-UK. All Rights Reserved