JCR-UK is a genealogical and historical website covering all Jewish communities and
congregations throughout the British Isles and Gibraltar, both past and present.
NOTE: We are not the official website of this congregation, for details of which see below.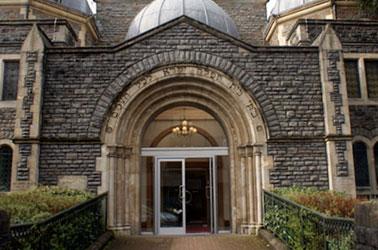 A Photograph (taken in 2015) of the former Synagogue in Cathedral Road
(now Cardiff Temple Court serviced offices)
Congregation Data

Name

Cardiff United Synagogue

Address:

Cyncoed Gardens, Cyncoed Road, Penylan, Cardiff CF23 5SL (from 2003)

Formation:

Established in 1942,(i) by the Cardiff Hebrew Congregation and the Cardiff New Hebrew Congregation, who joined together to form a single united synagogal organisation, but with congregations initially at two different locations (until 1988).

Former Addresses:

1955 to 2003 - Brandreth Road, Penylan Ty Gwyn Road, Cardiff CF23 5LB (synagogue consecrated 9 January 1955)

Until 30 December 1988(ii) - Cathedral Road, Cardiff CF11 9HA (this had been the synagogue of the Cardiff Hebrew Congregation since 1897). The synagogue was designated a Grade II Listed Building (reference number 14107) on 20 December 1984 (amended 24 May 2002). View listing on the website of Cadw (Welsh Government's historic environment service). Most of the building was demolished in the early 1990s, except the facade and rubble stone vestibule, to give way to an office block.

Until 1955 - Windsor Place, Cardiff (this had been the synagogue of the Cardiff New Hebrew Congregation since 1918)

Current Status:

Active

Affiliation:

A provincial synagogue under the aegis of the Chief Rabbi.

Ritual:

Ashkenazi Orthodox

Website:

Ministers (not complete list):

Cathedral Road Synagogue

Rev. Harris Jerevitch - 1908 to 1953.(iii)

Membership Data

General

1946 - 400 members at Cathedral Road Synagogue and 300 members at Windsor Place Synagogue(iv)

1999 - 230 (as reported by Board of Deputies)

National Reports and Surveys(v)

2010 - listed as having 100 to 199 members (by household)

2016 - listed as having 100 to 199 members (by household)

Cemetery
Information:

The Orthodox Community has two Jewish cemeteries - the Old Jewish Cemetery in Heathfield Road, Roath Park and the New Jewish Cemetery in Ely.

For details, see Cardiff Cemetery Information, which includes alinks to the JCR-UK Hosted Databases of both the Highfield Road Cemetery and the Ely Cemetery.

Notes & Sources (↵ returns to text above)
Congregational & Marriage Records

Registration District (BDM):

Synagogue Archives:

The synagogue's archives are deposited with the Archivist, and are located at Mid Glamorgan County Hall, Museum Avenue, Central Cardiff. Contact: Alan Liss, Community Historian. c/o Cardiff United Synagogue, Cyncoed Gardens.

Cardiff Jewish Community home page
Jewish Congregations in the former county of Glamorganshire
Jewish Communities & Congregations in Wales home page
Page created: 1 May 2003
Latest revision or update: 24 September 2020
---
Explanation of Terms | About JCR-UK | JCR-UK home page

Contact JCR-UK Webmaster:
jcr-ukwebmaster@jgsgb.org.uk
(Note: This is to contact JCR-UK, not the above Congregation)

Terms and Conditions, Licenses and Restrictions for the use of this website:
This website is owned by JewishGen and the Jewish Genealogical Society of Great Britain. All material found herein is owned by or licensed to us. You may view, download, and print material from this site only for your own personal use. You may not post material from this site on another website without our consent. You may not transmit or distribute material from this website to others. You may not use this website or information found at this site for any commercial purpose.


Copyright © 2002 - 2023 JCR-UK. All Rights Reserved