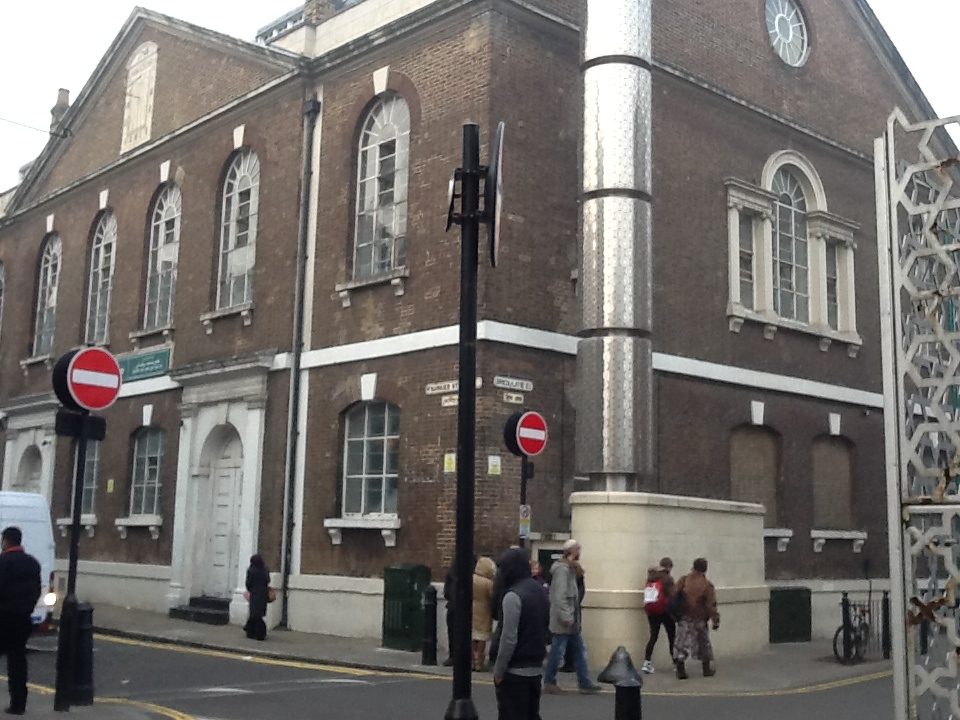 © David Shulman 2013
The former Machzike Hadath Synagogue, on the corner of Brick Lane and Fournier Street, London E1.
Now the Brick Lane Mosque (London Jamme Mashid). December 2013.

Congregation Data

Name:

Machzike Hadath Synagogue (or Machzike Adass Synagogue)
[Translation - "Upholders of Faith"]
also known as Machzikei Hadath v'Shomrei Shabbat Synagogue

Alternative Name:

Spitalfields Great Synagogue

Developed from:

Machzike Shomrei Shabbat Synagogue (prior to 1893)

Addresses:

The Spitalfields Great Synagogue at 59 Brick Lane, Spitalfields, London E1 6QL (1897 to about 1975).

The Brick Lane building (on the north-west of corner with Fournier Street) was constructed in 1742-3, began life as La Neuve Eglise, a Huguenot Church. It was briefly used as a missionary centre from 1809 (by the Society for the Promotion of Christianity Amongst the Jews) before becoming the main Wesleyan Methodist Chapel of East London in 1819, until its purchase by Machzike Hadath in 1897.

The building is a Grade II* Listed Building (number 1240697) designated on 29 December 1950 (most recent amendment 5 May 2010). View description on Historic England website. The adjoining former school and vestry of La Neuve Eglise, which was later part of the synagogue is a Grade II Listed Building (number 1065278) designated on 19 February 1970 (most recent amendment 5 May 2010). View description on Historic England website.

Prior to 1897 yhe congregation was in Booth Street, Spitalfields, London E1 (until 1898).

Location:

Brick Lane extends from Swanfield Street, in Bethnal Green, crossing over Bethnal Green Road and continuing some one-third of a mile south through Spitalfields to Wentworth Street. For most of its length it runs parallel to Commercial Street (to the east). Brick Lane's continuation to the south, Osborn Street (some 400 feet long), leads into Whitechapel High Street.

Booth Street (running 500 feet east-west) was the name of what is now the eastern section Princelet Street (from Brick Lane to Spelman Street). It ran parallel to Hanbury Road (to the north) and Heneage Street (to the south).

Formation:

Machzike Hadath was formed as a society by individual members of the North London Beth Hamedrash and the Machzike Shomrei Shabbat Synagogue (of Booth Street) . In February 1893, the Machzike Shomrei Shabbat Synagogue formally joined the society and adopted the name the Machzike Hadath Synagogue.

Current Status:

The synagogue in Brick Lane closed in 1973 and, following its sale in 1975, it became London Jamme Mashid, also known as the Brick Lane Great Mosque(i), used primarily by the Bangladeshi community.

A successor congregation in Northwest London, Machzike Hadath (Golders Green), was established at the time of the synagogue's closure.

Ritual:

Ashkenazi Orthodox

Affiliation:

Became affiliated to the Federation of Synagogues in 1905

Membership Data:

1905 - 215 members (Jewish Year Book 1906

1915 - 325 members (Jewish Year Book 1916)

Local Government Districts:

Brick Lane is in the London Borough of Tower Hamlets, created on 1 April 1965, within the administrative area of Greater London.

Previously, Brick Lane and Booth Street were in the Metropolitan Borough of Stepney (established 1900) in the County of London (established 1889), both of which entities were abolished in 1965.

Both Brick Lane and nearly all of Booth Street were also within the civil parish of Spitalfields (which was in the former County of Middlesex until 1889) and which, from 1856 to 1900, was a constituent of the Whitechapel District.

The civil parish of Spitalfields was abolished in 1921, being absorbed into the civil parish of Whitechapel, which itself was abolished in 1927 to be absorbed into Stepney Borough parish (until that parish's abolition in 1965).

Cemetery
Information:

Notes & Sources (↵ returns to text above)
Bibliography, On-line Articles and Other Material
relating to this Congregation
on JCR-UK
Selected Bibliography:

A Fortress of Anglo-Jewry by B. Homa, 1953 (Shapiro Valentine)

Footprints on the Sands of Time by B. Homa, 1990

The Lost Synagogues of London by P. Renton, pp. 171-172, 2000 (Tymsder Publications, London)

The Synagogues of London by P. Lindsay, pp. 49-51, 1993 (Vallentine Mitchell).

The Jewish East End, Then and Now, Aumie and Michael Shapiro, pp. 28-9, 1994.

Jewish Heritage in Britain and Ireland, by Sharman Kadish. pp. 14-15, 2015
Congregational Records

Registration District (BMD):

Tower Hamlets (since 1 January 1983) - Link to Register Office website

Previous Registration Districts:
Stepney - from 1 January 1926 until 1 January 1983;
Whitchapel - from founding of congregation until 1 January 1926.
(All records would now be held by current office.)

Marriage Records:

Three marriage registers of the Spitalfields Great Synagogue (first entry 11 June 1905, last entry: 4 August 1971) are deposited with Tower Hamlets Register Office (ref: s46)

The Board of Deputies may also hold copies of some or all of the registers.

List of Congregations in the Federation of Synagogues
Street Directory of Synagogues in East End and City of London
Jewish Congregations of the London East End
Page created: 26 October 2006
Latest revision or update: 6 July 2018