JCR-UK is a genealogical and historical website covering all Jewish communities and
congregations throughout the British Isles and Gibraltar, both past and present.
NOTE: We are not the official website of the congregation discussed below, the address of which is given below.
Town of Welwyn Garden City
Welwyn Garden City, a town in the county of Hertfordshire in southeast England, was founded in the 1920's. It is part of the local government district of Welwyn Hatfield, formed in 1974 by the merger of the urban district of Welwyn Garden City with adjoining localities.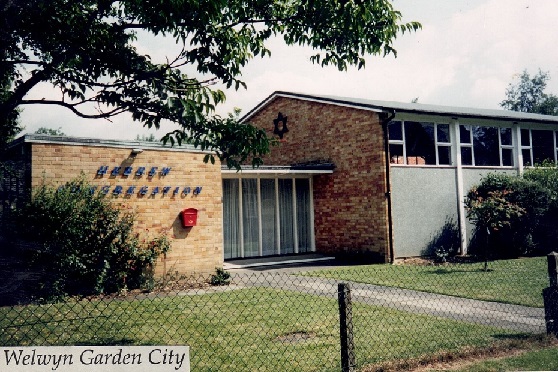 Welwyn Garden City Synagogue (Courtesy Jeff Rosen)
Jewish Community
The Jewish community in Welwyn Garden City dates from World War II, when it was founded by Jewish from Europe seeking refuge from the Nazis and families evacuated from London. It was initially organised as a United Synagogue Membership Group, and subsequently developed into a full community.
In about 2016 the United Synagogue Communities of Potential Board identified Hatfield and Welwyn as a new Jewish centre of growth, due to Jewish families moving into the area, attracted by good road and rail links to London and affordability of housing for young couples and families who are being priced out of Borehamwood and Radlett.
In 2021, the website of the Movement for Reform Judaism (https://www.reformjudaism.org.uk/) listed Reform Judaism in Welwyn & South Herts as one of its affiliated congregations and societies, providing a telephone number but no further details.
Congregation Data

Name:

Welwyn Garden City Synagogue

(formerly Welwyn Garden City Affiliated Synagogue and Welwyn Garden City Jewish Community)

developed from Welwyn Garden City United Synagogue Membership Group(iii)

Address:

Barn Close, Handside Lane, Welwyn Garden City, Hertfordshire, AL8 6ST.(iv)

A building fund had been established by 1949 and the plot in Handside Lane (next to the Friends Meeting House) was purchased in 1951.(v) On 25 May 1955, the foundation stone of the new synagogue was laid by Simon Lichtigfeld, senior warden.(vi)

On 1 January 1956, the synagogue was opened by Werner Lash and consecrated by Chief Rabbi Sir Israel Brody. The other joint guest of honour was His Excellency, Colonel José Arturo Castellanos, the then ambassador to Britain of the Republic of El Salvador. Col. Contreras (1893-1977) was a Salvadoran army colonel and diplomat who, while working as El Salvador's Consul General for Geneva during World War II, and in conjunction with a Jewish-Romanian businessman named György Mandl, helped save up to 40,000 Central European Jews, most of them from Hungary, from Nazi persecution by providing them with fake Salvadoran citizenship certificates. As the community at that time was founded and largely maintained by ex-refugees, the presence of Col. Castellanos was especially welcomed.(vii)

Previous Addresses:

Previously, the congregation met at various addresses throughout Welwyn Garden City, in particular the Friends Meeting House, Handside Lane.(x)

Current Status:

Active

Formation:

The congregation dates from January 1939 when 16 young refugees from Nazi Germany came to Welwyn Garden City, with the assistance of the Quaker community. Welwyn subsequently attracted evacuees from London and in November 1939 a meeting was held at Lawrence Hall when the Welwyn Garden City Jewish Community was established. The community became formally established congregation win 1948.(xi)

The congregation attracts members from Hitchin in the North to Hatfield in the South, and from Hertford in the East to St. Albans in the West.(xii)

Ritual:

Orthodox - Ashkenazi

Affiliation:

Initially a United Synagogue Membership Group,(xiii) the congregation became an affiliated synagogue of the United Synagogue in 1948(xiv) and a constituent synagogue in 2017.(xv)

The Congregation is part of the 5+1 group, consisting of six small United Synagogue communities, five in Hertfordshire and one in Bedfordshire.(xvi) The 5+1 has a intercommunal social programme intended to match those provided by large synagogues, whilst retaining the closeness of smaller communities.

Website:

Ministers:

(To view a short profile of a minister - hold the cursor over his name.)

Rabbi Dr. D. Lewin - spiritual leader during World War II(xx)

Rev. Jakob Kaufmann - reader and minister from about 1947 until 1968(xxi)

After Rev. Kaufmann's retirement, the community was unable for many years to support a minister and Jack Harris was of the congregation's principal lay reader during this period.

Rev. Julian Klein - part-time minister from 1987 until 1991(xxii)

Rabbi I. Geoffrey Hyman - part-time minister from 1998 until 2006(xxiii)

Rabbi Hillel Gruber - part-time minister from 2007 until about 2014(xxiv)

Rabbi Yakov Tatz & Rebbetzen Elana Tatz - rabbinic couple from 2018 until present (June 2022)(xxv)

Lay Officers:

Unless otherwise stated, the data below has been extracted from Jewish Year Books, not published during the war years 1940-1945.(xxx) In most instances, the officer's first name has been obtained from other sources.

Presidents

c.1940 - H. Spiers (Chairman)(xxxi)

war years-1946 - Dr. K.S. Richard

1946-1949 - Dr. A. Cohen

1949-1950 - Werner M. Lash

Chairmen

1950-1951 - L. Simmonds

1951-1956 - Werner M. Lash

Treasurers

war years-1947 - Max Kleeman

1947-1949 - S. Tibber

1949-1950 - B. Burger

1950-1953 - Leonhard Hamburger

1953-1955 - J. Harris

1955-1956 - Sydney Grossman

Secretaries & Hon. Secretaries

war years-1946 - Rev. Dr. D. Lewin

1947-1948 - Achim Pollack & W. Leschziner

1948-1949 - Achim Pollack & Mrs. P. Jackson

1949-1950 - P. Pollack

1950-1952 - Mrs. P. Jackson & J. Harris

1952-1953 - Achim Pollack & Mrs. P. Jackson

1953-1960 - Achim Pollack

1960-1964 - Robert Landau

1964-1968 - H.B. Kaltz

1968-1971 - Robert Landau

1971-1976 - E.G. Tuch

1976-1981 - Robert Landau

1981-1985 - M.F. Trent

1985-1989 - R. Selby

Membership Data:

Male Seatholders(xxxv)

| | | | |
| --- | --- | --- | --- |
| 1948 | 1950 | 1960 | 1970 |
| 29 | 31 | 59 | 66 |

Reports & Surveys(xxxvi)

1977 - 55 male (or household) members and 19 female members

1983 - 49 male (or household) members and 20 female members

1990 - 107 members (comprising 77 households, 1 individual male and 29 individual female members)

1996 - 103 members (comprising 90 households, 6 individual male and 7 individual female members)

2010 and 2016 - listed as having 100 to 199 members (by household)

Charitable Status

As a constituent of the United Synagogue, the congregation operates within that organisation's registered charity status (registered charity no. 242552).

Registration District:

Hertfordshire, from 1 April 2008(xxxvii) - Link to Register Office website.

Notes & Sources (↵ returns to text above)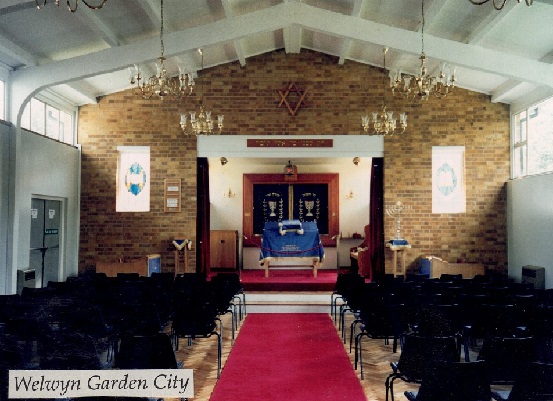 Interior of Welwyn Garden City Synagogue (courtesy Jeff Rosen)
On-line Articles and Other Material relating to relating to
the Welwyn Garden City Jewish Community

on JCR-UK

Notable Jewish Connections with Welwyn Garden City
Keren David (b.1963), national and Jewish community journalist, features editor of The Jewish Chronicle and author for young adults, grew up in Welwyn Garden City.

Martin Dyas, a member of the Welwyn Garden City congregation, is a leading Elvis Presley tribute performer who performs under the name Elvis Schmelvis.

Baroness Hayman (Helene Valerie Hayman) (b. 1949) was Labour MP for Welwyn and Hatfield, October 1974-1979 and, at the time, the youngest member of the House of Commons.

Derek Prag (1923-2010) was MEP for Hertfordshire (1979-1994) and directed the European Community Press and Information Office in London. He was a resident of Welwyn Garden City and active in the congregation.

Grant Shapps (b. 1968) is Conservative MP for Welwyn and Hatfield since 2005. He was appointed Housing Minister in 2010 and co chair of the Conservative Party in 2012. He has been Secretary of State for Transport since 2019.

Desmond Wilcox (1931-2000), born in Welwyn Garden City, television producer, documentary filmmaker, journalist and television executive converted to Liberal Judaism following his marriage to journalist, campaigner and TV presenter, Esther Rantzen, in 1977.

Wim Van Leer (1913-1992) was a Dutch engineer, war-time pilot, playwright, film producer and the scion of a philanthropic family who endowed the Van Leer Jerusalem Institute. He settled in Welwyn Garden City in the 1930s where he founded a small metal factory. He was persuaded by the Quakers to rescue Jews from Nazi Germany. He fought in Israel's war of independence, became a leading industrialist in Israel, and founder of the Haifa Cinematheque, the Israel Film Archive, the Jerusalem Film Festival, as well as Israel's first film archive; the Jerusalem Cinematheque
Jewish Cemetery Information
There is no Jewish cemetery in Welwyn. For cemeteries used by the Congregation, see Cemeteries of the United Synagogue, of which Bushey Cemetery is only some 16 miles away and Waltham Abbey some 21 miles.
Welwyn Garden City Jewish Population Data

1947

250

(The Jewish Year Book 1948)

1948

150

(The Jewish Year Book 1949)

1950

200

(The Jewish Year Book 1951)

1951

195

(The Jewish Year Book 1952)

1990

290

(The Jewish Year Book 1991)

List of United Synagogue Congregations (and Membership Groups)
World War II Evacuee Communities
Jewish Congregations in Hertfordshire
Jewish Communities of England home page

Page created: 14 March 2006
Data significantly expanded and notes first added: 7 June 2022
Page most recently amended: 10 September 2023
Research by David Shulman, assisted by Steven Jaffe
Formatting by David Shulman
---
Explanation of Terms | About JCR-UK | JCR-UK home page

Contact JCR-UK Webmaster:
jcr-ukwebmaster@jgsgb.org.uk
(Note: This is to contact JCR-UK, not the above Congregation)

Terms and Conditions, Licenses and Restrictions for the use of this website:
This website is owned by JewishGen and the Jewish Genealogical Society of Great Britain. All material found herein is owned by or licensed to us. You may view, download, and print material from this site only for your own personal use. You may not post material from this site on another website without our consent. You may not transmit or distribute material from this website to others. You may not use this website or information found at this site for any commercial purpose.


Copyright © 2002 - 2023 JCR-UK. All Rights Reserved