JCR-UK is a genealogical and historical website covering all Jewish communities and
congregations throughout the British Isles and Gibraltar, both past and present.
NOTE: We are not the official website of this congregation, the address of which is shown below.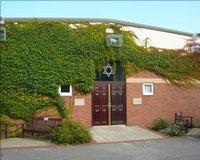 The entrance to the Synagogue
Congregation Data

Name:

Hull Hebrew Congregation

Address:

30 Pryme Street, Anlaby, Hull HU10 6SH.(ii) The synagogue was opened by Chief Rabbi Dr. Jonathan Sacks on 2 April 1995.(iii)

Date Formed:

Formed in 1994 - by the amalgamation of the Hull's Western Synagogue, the Hull Old Hebrew Congregation and the Hull Judeans Maccabi Association.(iv)

Current Status:

Active.

Ritual:

Ashkanazi Orthodox

Affiliation:

In March 2021, it was announced that the congregation was to join the United Synagogue,(v) becoming only the third Provincial syngogue to join the organisation. Previously the congregation had been unaffiliated but under the aegis of the Chief Rabbi.

Website:

Ministers:

(To view a short profile of a minister known to have served other UK congregations - name in blue - hold the cursor over his name.)

Rabbi Shalom Osdoba (and Rebbetzen Sarah Osdoba) - from 1995 until October 2011.(vii)

Rabbi Naftoli Lifschitz (and Rebbetzen Shayna Lifschitz) (part-time) - from September 2012 until 2019(viii)

Rabbi Eli Denderowicz (and Rebbetzen Sorele Denderowicz) (part-time) - 2019 to present (March 2021)(ix)

Newsletter:

The congregation's monthly newsletter, "Pryme News", was first published in 1995.(xi)

Membership Data:

General

1999 - 350 (as reported by Board of Deputies)

2008 - 160 (Community Records)

Reports & Surveys(xii)

1996 - 269 members (comprising 91 households, 65 individual male and 113 individual female members)

2010 - listed as having 100 to 199 members (by household)

2016 - listed as having 50 to 99 members (by household)

Charitable Status

The congregation is an unincorporated association, governed by its Constitution, adopted in 1 March 1994, as amended i27 June 2004. It is a also registered charity (registered charity no. 1035451), registered on 23 March 1904.(xiii)

Cemetery
Information:

For details, see Cemeteries Information on the Hull Jewish Community home page.

Notes & Sources (↵ returns to text above)
On-line Articles and Other Material
relating to this congregation
Hull Jewish Community home page


List of United Synagogue Congregations
Jewish Congregations in the East Riding of Yorkshire
Jewish Communities of England home page

Page created: 12 December 2005
Data significantly expanded and notes first added: 28 April 2020
Latest revision or update: 14 March 2021
---
Explanation of Terms | About JCR-UK | JCR-UK home page

Contact JCR-UK Webmaster:
jcr-ukwebmaster@jgsgb.org.uk
(Note: This is to contact JCR-UK, not the above Congregation)

Terms and Conditions, Licenses and Restrictions for the use of this website:
This website is owned by JewishGen and the Jewish Genealogical Society of Great Britain. All material found herein is owned by or licensed to us. You may view, download, and print material from this site only for your own personal use. You may not post material from this site on another website without our consent. You may not transmit or distribute material from this website to others. You may not use this website or information found at this site for any commercial purpose.


Copyright © 2002 - 2023 JCR-UK. All Rights Reserved