JCR-UK is a genealogical and historical website covering all Jewish communities and
congregations throughout the British Isles and Gibraltar, both past and present.

Town of Barnsley
The market town of Barnsley, with a population of over 90,000, is the largest urban area within the metropolitan borough of Barnsley, in Northern England. The present boundaries date from 1974, when the metropolitan district of Barnsley was formed within the then new metropolitan county of South Yorkshire. Barnsley became a unitary authority in 1986 when South Yorkshire lost its administrative status, becoming purely a ceremonial county. Until 1974, Barnsley was a borough within the West Riding of Yorkshire.
Barnsley Jewish Community
There was a small Jewish population in Barnsley, numbering no more than about 100 at its zenith, which established an organised Jewish congregation during in the first half of the twentieth century.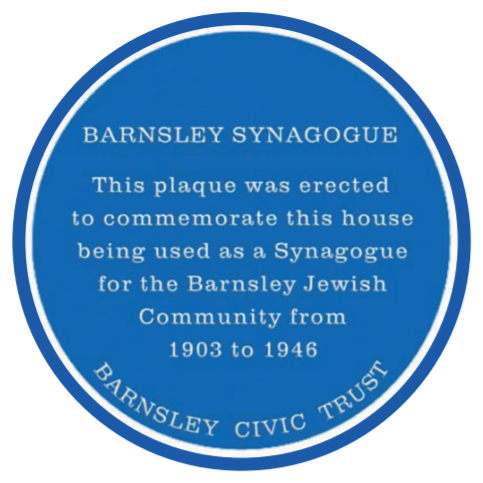 Plaque placed in 2018 on the building that
had been used as the Barnsley Synagogue.
Congregation Data

Name:

Barnsley Synagogue

Address:

82 Castlereagh Street, Barnsley.(ii) The building is now a house in multiple occupation.

Formation:

Founded in 1903(iii)

Date Closed:

Closed in 1946(iv)

Ritual:

Ashkenazi Orthodox

Affiliation:

None known, but the congregation would probably have been under the aegis of the Chief Rabbi.

Minister:

Rev. Israel Dobkin - the congregation's only known minister, who served from 1903 until an unknown date.(vii)

Lay Officers:

All three lay officers named below were elected in 1903(viii) and were listed as the officers of the congregation in all editions of the Jewish Year Book in which the congregation was listed.(ix)

| | | |
| --- | --- | --- |
| President | Treasurer | Hon. Secretary |
| B. Prosser | A.M. Glass | M. Feldmann |

Registration District (BMDs):

Barnsley, since 28 March 1850(x) - Register Office Website

Cemetery Details

There is no Jewish cemetery in Barnsley.
Online Articles and Other Material
relating to the Barnsley Jewish Community
on JCR-UK
Pamphlet on Barnsley Jewish Community (pdf), prepared and produced by Nigel Grizzard and the Barnsley Archives and Local Studies, on the occasion of the erection and unveiling of a Civil Trust Plaque on the building that used to be the Barnsley Synagogue. (Note the unveiling ceremony did not take place on the published date but was postponed to 18 March 2018.)
On Third Party websites
Notes & Sources
(↵ returns to text above)

Jewish Congregations in South Yorkshire

Page created: 22 August 2005
Data significantly expanded and notes first added: 29 June 2021
Latest revision or update: 5 August 2021
---
Explanation of Terms | About JCR-UK | JCR-UK home page
Contact JCR-UK Webmaster:
jcr-ukwebmaster@jgsgb.org.uk


Terms and Conditions, Licenses and Restrictions for the use of this website:
This website is owned by JewishGen and the Jewish Genealogical Society of Great Britain. All material found herein is owned by or licensed to us. You may view, download, and print material from this site only for your own personal use. You may not post material from this site on another website without our consent. You may not transmit or distribute material from this website to others. You may not use this website or information found at this site for any commercial purpose.


Copyright © 2002 - 2023 JCR-UK. All Rights Reserved