Page created: 25 April 2006
Latest revision or update: 13 September 2017

Town of Dudley
Dudley, with a population of about 195,000, lying to the south of Wolverhampton, became a metropolitan borough in 1974 within the newly created metropolitan county of West Midlands in Central England. In 1986, Dudley became a unitary authority, when West Midlands lost its administrative status, becoming purely a ceremonial and geographical county. Dudley had been a county borough from 1898 and was an enclave of the county of Worcestershire surrounded by the county of Staffordshire. In 1966 it was transferred to Staffordshire and its boundaries were expanded by the incorporation of adjoining areas of Staffordshire.

Jewish Community and Congregation
There was a small Jewish community in Dudley from the mid-nineteenth century into the early years of the twentieth century. According to one source (Religious Worship Census of 1851, as reported in V. Lipman's "Survey of Anglo Jewry in 1851"), a synagogue was established in 1848, and at the time of the census the average male Sabbath attendance was only 10. By 1871 (according to reports in the Jewish Chronicle), the synagogue had been closed for some time and attempts were then being made to establish a new one and there was an appeal for funds for a synagogue. At the time, the congregation had a President; a Treasurer and an Honorary Secretary. However, there are no reports at the time of the synagogue having been re-established.
Subsequently, there were reports from time to time of services being held in Dudley and even references to ministers for the Community. The Jewish Year Book 1906 refers to services being held at the house of the President (a Mr. H. Cohen of 55 Wellington Road)(1) and below is a photograph of the silver plate presented to Mr. H. Harris, who presumably acted as reader (canter) at the high holy day services held later that year.
________________
FOOTNOTES (↵ returns to main text)
↵
Congregation Data

Name:

Dudley Hebrew Congregation

Address:

Services held in the homes of members of the community. There were reports of a synagogue being founded in 1848.

Date Founded:

A congregation is believed to have been initially established in 1848 but this at the turn of the century. See above

Current Status:

Closed, early in the twentieth century

Ritual:

Ashkenazi Orthodox

Registration District (BDM):

Dudley (from formation of congregation) - register office website

We are extremely grateful to
Phillip Morris
for kindly providing JCR-UK with an opportunity of photographing the plate below
which had been presented to his great-grandfather.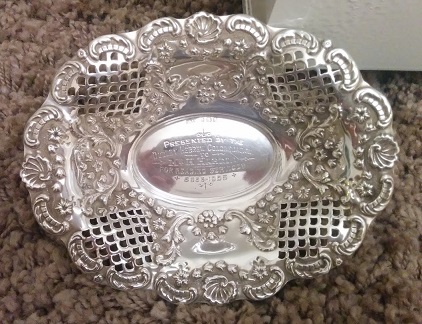 Photograph © David Shulman 2017
The inscription on the above silver plate reads
"Presented by the
Dudley Hebrew Congregation
to
Mr. H. Harris
for Reading Services
5666 - 1905"
Click on above image to view enlarge image of the inscription in a new window.

On-line Articles and Other Material relating to the Dudley Jewish Community
on JCR-UK
Dudley Jewish Cemetery Information
There is no known Jewish cemetery in Dudley.
Dudley Jewish Population Data

1851

50-100

Provincial Jewry in Victorian Britain by A Newman

1871

2 families and 15 young men

(The Jewish Chronicle, 1 December 1871)

1896

9 families

(The Jewish Year Book 1896/7)

1898

12 families

(The Jewish Year Book 1898/9)

1934

50

(The Jewish Year Book 1935)

Jewish Congregations in West Midlands