JCR-UK is a genealogical and historical website covering all Jewish communities and
congregations throughout the British Isles and Gibraltar, both past and present.
NOTE: We are not the official website for this community.

City of Plymouth
The city of Plymouth, an historic port on the south coast of Devon in South West England, has a population of about 240,000. The county borough of Plymouth, created 1889, had been enlarged a number of times by incorporation of adjoining localities, including the incorporation of the municipal borough of Devonport in 1914. In 1974, Plymouth lost its county borough status becoming a local government district within the county of Devon. However, in 1974, it once again became a unitary authority, remaining within Devon for ceremonial purposes.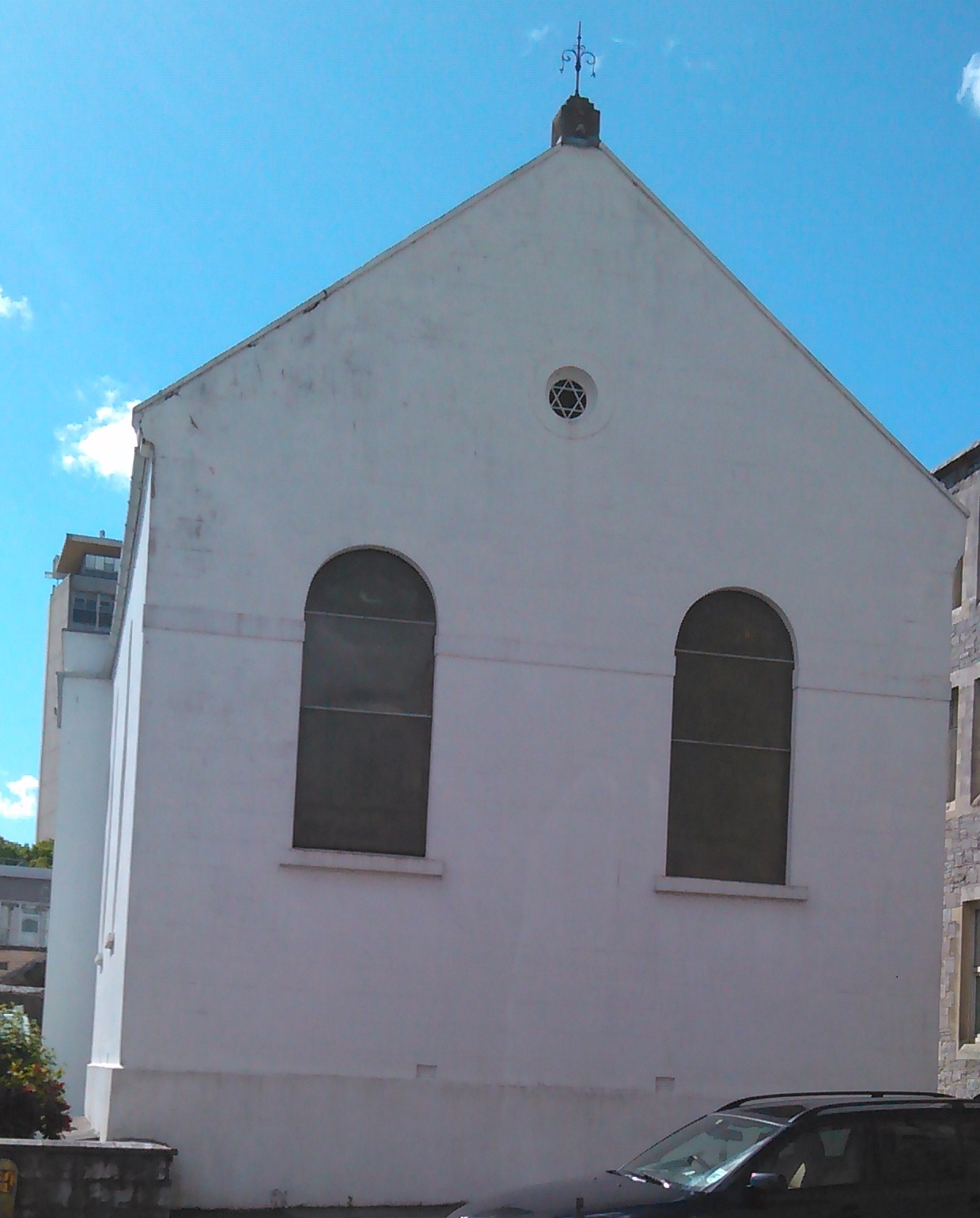 Plymouth Synagogue
ęDavid Shulman 2016
The Plymouth Jewish Community
The Jewish community in Plymouth dates fromthe 1740s and the Plymouth Synagogue is the oldest extant Ashkenazi synagogue still in use in the English-speaking world.
The records in the database associated with Plymouth include:
Censuses

UK Jewish Communal Leaders Database

1851 Anglo Jewry Database (updated 2016)

Individuals in the 1851 Anglo Jewry Database who were living in Plymouth during the 1760s (1 record); 1770s (2 records), 1780s (11 records), 1790s (14 records), 1800s (33 records), 1810s (67 records); 1820s (94 records), 1830s (135 records), 1840s (266 records), 1850s (380 records), 1860s (185 records), 1870s (102 records), 1880s (60 records), 1890s (13 records), 1900s (8 records) and 1910s (2 records).
Bibliography, Online Articles and Other Material
relating to the Plymouth Jewish Community
on JCR-UK as part of the Susser Archive
also on JCR-UK
Other Plymouth Jewish Institutions & Organisations
Educational & Theological
Other Institutions & Organisations
(that had been formed by 1900*)
Ladies' Hebrew Benevolent Society (founded about 1830).

Hand-in-Hand' Charitable Society (founded 1861).

Chovevi Zion Association Branch (founded by 1896).

Anglos-Jewish Association Branch (founded by 1896).

Sick Visiting Society (founded by 1900).
* As listed in the Jewish Directory of 1874 and the Jewish Year Books 1896 & 1900.
Plymouth Jewish Cemeteries Information
Plymouth has two Jewish cemeteries:
The Plymouth Hoe Old Jews' Burial Ground, Lambhay Hill, The Barbican, Plymouth PL1 2NW. Burial date from 1744. The Cemetery was extended in 1758, 1811 and 1815. The cemetery is no longer in use but is still maintained by the community.
The Burial Ground is a Grade II Listed Building, listed on 31 October 2017 (number 1448469). See Historic England Listing & Description.

Articles on JCR-UK:

"Jewish Tombstone Inscriptions in S. W. England - Studies in Anglo-Jewish History No. 3", by Rabbi Dr. Bernard Susser, includes an Introduction that makes reference to Plymouth;

Jewish Tombstone of South-West England. A brief article by Rabbi Dr. Bernard Susser, primarily on the Plymouth cemeteries and their inscriptions. A valuable insight into how he was drawn into his historical studies. It usefully supplements the above.

Gifford Place Jewish Cemetery, rear of 49 Gifford Place, Mutley Plymouth PL3. Opened in 1868 and still in use.
(See also IAJGS International Jewish Cemeteries Project - Plymouth)
Plymouth Jewish Population Data

1746

Community founded (opening of Jewish Cemetery)

1898

260

(The Jewish Year Book 1898/99)

1915

400

(The Jewish Year Book 1916)

1934

400

(The Jewish Year Book 1935)

1945

370

(The Jewish Year Book 1945/46)

1955

356

(The Jewish Year Book 1956)

1965

225

(The Jewish Year Book 1966)

1990

200

(The Jewish Year Book 1991)

2004

181

(The Jewish Year Book 2005)
Jewish Communities of England home page

Page created: 5 May 2006
Latest revision or update: 23 March 2023
---
Explanation of Terms | About JCR-UK | JCR-UK home page
Contact JCR-UK Webmaster:
jcr-ukwebmaster@jgsgb.org.uk
(Note: This is to contact JCR-UK, not the above Community or Congregation)

Terms and Conditions, Licenses and Restrictions for the use of this website:
This website is owned by JewishGen and the Jewish Genealogical Society of Great Britain. All material found herein is owned by or licensed to us. You may view, download, and print material from this site only for your own personal use. You may not post material from this site on another website without our consent. You may not transmit or distribute material from this website to others. You may not use this website or information found at this site for any commercial purpose.


Copyright © 2002 - 2023 JCR-UK. All Rights Reserved