JCR-UK is a genealogical and historical website covering all Jewish communities and
congregations throughout the British Isles and Gibraltar, both past and present.
Town of Buxton
The spa town of Buxton in the English East Midlands is considered the gateway to the Peak District National Park. It was a municipal borough until 1974, when it was merged with adjoining areas to form the District (later Borough) of High Peak, still remaining within the county of Derbyshire.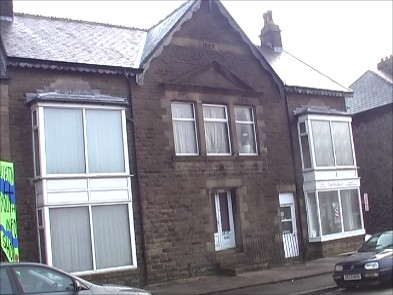 A photograph of Oddfellows Hall, where the former Buxton Congregation held its Sabbath morning services,
taken in December 2010 by Selwyn Rose.
Buxton Jewish Community
Although there had been individual Jews in Buxton from the early nineteenth century number, an organised Jewish community was not established until the influx of evacuees during World War II, who established the only known Jewish congregation in the town, the Buxton Hebrew Congregation, which did not survive long after the end of the War.
Congregation Data

Name:

Buxton Hebrew Congregation

Address:

Services were held on Friday evening at 4, Lower Hardwick Street and on Saturdays at the Oddfellows Hall, Market Street.(ii) Prior to the establishment of the congregation, in about 1940 services were held frequently at Somerford House, Terrace Road.(iii)

Date Founded:

Believed to have been established in about 1940.

Status:

Closed in about 1946.(iv)

Ritual:

Orthodox - Ashkenazi

Minister:

Lay Officers:

Until about 1945(xi)

Chairman - S. Oster

Warden - M. Gurvitch

Treasurer - A. Bishop

Hon.- Secretary B. Hyams

From about 1945(xii)

Chairman - B.B. Lichtenstein

Wardens - S. Leitner & Dr. S. Wohl

Treasurer - P. Davies

Hon.- Secretary D. Lever

Notes & Sources (↵ returns to text above)
The records in the database associated with Buxton include:
Online Articles and Other Material
relating to the Buxton Jewish Community
On JCR-UK
The Jewish Community of Buxton in the English Peak District by Geoffrey M. Weisgard - an expanded and updated online version of an article that originally appeared in Shemot, the journal of the Jewish Genealogical Society of Great Britain, April 2021 (Vol. 29, 1), kindly provided to JCR-UK by the author.
Communal Records

Registration District (BMD):

High Peak (Derbyshire) (since 1 April 1974) - Register Office website

Previous Registration Districts:
High Peak - 1 July 1837 to 20 January 1838;
Chapel en le Frith - 20 January 1938 to 1 April 1974.
(All registers would now be held by current office.)
World War II Evacuee Communities
Jewish Congregations in Derbyshire
Jewish Communities of England home page

Page created: 4 November 2005
Page most recently amended: 8 September 2023
Research and formatting by David Shulman
---
Explanation of Terms | About JCR-UK | JCR-UK home page
Contact JCR-UK Webmaster:
jcr-ukwebmaster@jgsgb.org.uk


Terms and Conditions, Licenses and Restrictions for the use of this website:
This website is owned by JewishGen and the Jewish Genealogical Society of Great Britain. All material found herein is owned by or licensed to us. You may view, download, and print material from this site only for your own personal use. You may not post material from this site on another website without our consent. You may not transmit or distribute material from this website to others. You may not use this website or information found at this site for any commercial purpose.


Copyright © 2002 - 2023 JCR-UK. All Rights Reserved