Geographical Regions for the JewishGen Lithuania Database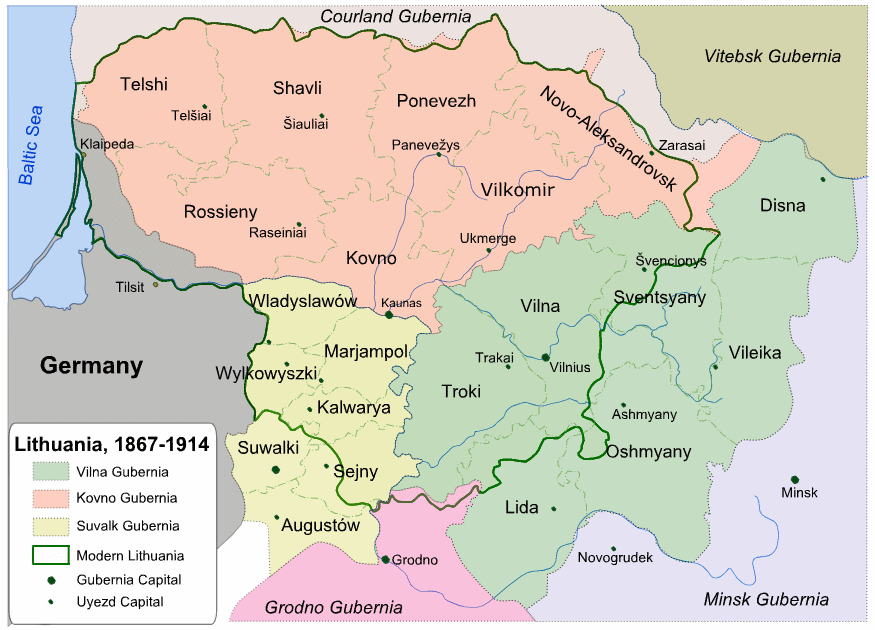 Russian Empire (until 1918)
Gubernias and Uyezds:
Prior to WWI (1917), the area that is now Lithuania was in the Russian Empire, and was part of three губерния gubernias (provinces): Kovno, Vilna, and Suwałki. Each gubernia was in turn divided into seven уезд uyezds (districts). These gubernia and uyezd divisions are as follows:
Kovno Gubernia:
The area that was Kovno Gubernia (Ковенская губеpния) is today in the northern half of modern Lithuania. The seven uyezds (districts) of Kovno Gubernia were:
Russian
Lithuanian
Yiddish
Polish
Notes, Major Towns

Kovno


Ковно
Kaunas

קאָװנע


Kovna
Kowno
Towns: Ariogala, Grinkiškis (Grinkishok), Kėdainiai (Keidan), Krakės (Krok), Jonava, Seredžius (Srednik), Vandžiogala, Vilijampolė (Slobodka), Vilkija.

Ponevezh


Поневеж
Panevėžys

פּאָנעװעזש


Ponevez
Poniewież
Towns: Biržai, Joniškėlis (Yanishkel), Linkuva, Krekenava, Pakruojis (Pokroi), Pasvalys (Posvol), Pumpėnai, Pušalotas (Pushelat), Vabalninkas (Vabolnik), Žeimelis (Zheimel). A tiny northern portion is now in Latvia.

Rossieny


Россены
Raseiniai

ראַסײן


Rasein
Rosienie
Towns: Darbėnai (Dorbyan), Jurbarkas (Yurburg), Kelmė, Kražiai (Krozh), Rietavas, Skaudvile, Tauragė (Tavrig), Žemaičių Naumiestis (Neishtat Sugind).

Shavli


Шавли
Šiauliai

שאָװל


Shavl
Szawle
Towns: Akmenė, Baisogala, Joniškis (Yanishok), Klykoliai, Kuršėnai, Leckava, Luokė, Mažeikiai, Papilė, Radviliškis, Šeduva, Šilalė, Tryškiai, Viekšniai, Žagarė.

Telshi


Тельши
Telšiai

טעלז


Telz
Telsze
Towns: Gargždai (Gorzd), Kretinga, Pikeliai (Pikeln), Plungė (Plungian), Salantai (Salant), Seda (Shad), Skuodas (Shkod), Varniai (Vorne).

Vilkomir


Вилькомир
Ukmergė

װילקאָמיר


Vilkomir
Wiłkomierz
Towns: Anykščiai (Anykst), Kavarskas, Kupiškis (Kupishuk), Raguva, Šeta (Shat), Troškūnai (Troshkin), Užpaliai (Ushpol), Utena (Utsian).

Novo-Aleksandrovsk


Ново-Александровск
Zarasai

עזערעני


Ezhereni
Jeziorosy
Easternmost quarter was in Poland between the two world wars, and is in Belarus today. Also one tiny piece now in Latvia (Oknista/Aknīste). Towns: Braslav (Brasław) [Bel], Dūkštas (Dukszty), Dusetos (Dusiat), Obeliai (Abel), Pandėlys (Ponedel), Rokiškis (Rakishok), Salakas (Soloki), Skapiškis (Skopishok), Vidzy (Widze) [Bel].
Vilna Gubernia:
The area that was Vilna Gubernia (Виленская губерния) is today the south-eastern part of modern Lithuania, and in the north-western part of Belarus.
Between the two world wars (1919-1939), most of Vilna Gubernia was in Poland (Wilno province). The inter-war Polish names of the towns are in italics. Today, the four southern uyezds are in Belarus. Here are the seven uyezds of Vilna Gubernia:
Russian
Lithuanian / Belarusian
Yiddish
Polish
Notes, Major Towns

Disna


Дисна
Disna

דיסנע


Disna
Dzisna
Today, in Belarus. Towns: Druya (Druja) [Bel], Germanovichi (Hermanowicze) [Bel], Hlybokaye (Głębokie) [Bel], Luzhki (Łużki) [Bel], Pastavy (Postawy) [Bel], Sharkowshchyna (Szarkowszczyzna) [Bel].

Lida


Лида
Lyda /
Ліда Lida

לידע


Lida
Lida
Today, mostly in Belarus. Towns: Belitsa (Bielica) [Bel], Eišiškes (Ejszyszki), Novyy Dvor (Nowy Dwór) [Bel], Ostryna [Bel], Radun (Raduń) [Bel], Rozhanka (Różanka) [Bel], Schuchyn (Szczuczyn) [Bel], Vasilishki (Wasiliszki) [Bel], Voranava (Woronów) [Bel], Zheludok (Żołudek) [Bel].

Oshmyany


Ошмяны
Ašmena /
Ашмяны Ashmyany

אָשמענע


Oshmene
Oszmiana
Today, mostly in Belarus. Towns: Dieveniškės (Dziewieniszki), Golshany (Holszany) [Bel], Ivye (Iwje) [Bel], Krevo (Krewo) [Bel], Lipnishki (Lipniszki) [Bel], Smarhon (Smorgonie) [Bel], Soly (Soły) [Bel], Traby [Bel], Valozhyn (Wołożyn) [Bel], Vishnevo (Wiszniew) [Bel].

Vilejka


Вилейка
Vileika /
Вiлейка Vilyeyka

װילייקע


Vileika
Wilejka
Today, in Belarus. Towns: Dolginovo (Dołhinów) [Bel], Dunilovichi (Duniłowicze) [Bel], Gorodok (Gródek) [Bel], Ilya (Ilja) [Bel], Krivichi (Krzywicze) [Bel], Kurenets (Kurzeniec) [Bel], Lebedevo (Lebiedziew) [Bel], Maladzyechna (Mołodeczno) [Bel], Myadzyel (Miadzoł Nowy) [Bel], Radoshkovichi (Radoszkowicze) [Bel], Vyazyn (Wiażyń) [Bel].

Sventsyany


Свенцяны
Švenčionys

סװענציאַן


Sventzian
Święciany
Today, parts in Belarus. Towns: Adutiškis (Hoduciszki), Ignalina (Ignalino), Linkmenys (Łyngmiany), Narach (Kobylnik) [Bel], Švenčionėliai (Nowo-Święciany), Svir (Świr) [Bel].

Troki


Троки
Trakai

טראָק


Trok
Troki
Towns: Alytus (Olita), Daugai, Butrimonys, Merkinė (Meretch), Stakliškės (Stoklishki), Valkininkai (Olkieniki), Varėna (Orany), Vievis, Žasliai (Zhosli), Žiežmariai (Zhezmir).

Vilna


Вильна
Vilnius

װילנע


Vilne
Wilno
Towns: Maišiagola (Mejszagoła), Mikhalishki (Michaliszki) [Bel], Molėtai (Malaty), Nemenčinė (Niemenczyn), Šalčininkai (Soleczniki Wielkie), Širvintos (Shirvint).
Suwałki Gubernia:
Suwałki (Suvalk) Gubernia (Сувальская Губения), located in southwestern Lithuania and northeastern Poland, was one of the ten gubernias of the Russian "Kingdom of Poland". Since WWI, the northern part is in Lithuania, and the southern part in Poland. In the town lists below, the modern native placenames are used, with the pre-WWI Polish town names in parenthesis.
Russian
Lithuanian
Yiddish
Polish
Notes, Major Towns

Kalvaria


Калвария
Kalvarija

קאַלװאָריע


Kalvaria
Kalwarya
Towns: Krosna (Krasna), Liubavas (Lubowo), Liudvinavas (Ludwinów), Alytus (Olita), Simnas (Simno), Rudamina (Urdomin).

Mariampol


Марiамполь
Marijampolė

מאַריאַמפּאָל


Mariampol
Marjampol
Towns: Aleksotas (Aleksota), Balbieriškis (Balwierzyszki), Garliava (Godlewo), Pilviškiai (Pilwiszki), Panemunis (Poniemoń), Prienai (Preny), Zapyškis (Sapieżyszki).

Vladislavov


Владиславов
Kudirkos Naumiestis

נײַשטאָט־שאַקי


Neishtat-Shaki
Władysławów
Towns: Sudargas (Sudarg), Šakiai (Szaki).

Vilkovishki


Вылковышки
Vilkaviškis

װילקאָװישק


Vilkovishk
Wyłkowyszki
Towns: Kybartai (Kibarty), Virbalis (Wierzbołowo), Vištytis (Wysztyniec).

Seiny


Сейны
Seinai

סײני


Seini
Sejny
Today, partially in Poland. Towns: Berżniki [Pol], Kapčiamiestis (Kopciowo), Krasnopol [Pol], Lazdijai (Łożdzieje), Leipalingis (Lejpuny), Seirijai (Sereje), Veisiejai (Wiejsieje).

Suvalki


Сувалки
Suvalkai

סוּװאַלק


Suvalk
Suwałki
Today, in Poland. Towns: Bakałarzewo [Pol], Filipów [Pol], Jeleniewo [Pol], Puńsk [Pol], Przerośl [Pol], Wiżany [Pol].

Augustov


Аугустов / Августов
Augustavas

אױגוסטאװע


Ogustove
Augustów
Today, in Poland, with the eastern quarter in Belarus. Towns: Галынка Hałynka (Hołynka) [Bel], Lipsk [Pol], Raczki [Pol], Сапоцкін Sapotskin (Sopoćkinie) [Bel], Sztabin [Pol].
---
Inter-war Lithuania:
After World War I, Lithuania became an independent country. Its capital was Kaunas. (The city of Vilnius was in Poland between the wars). Independent Lithuania was divided into 23 districts (singular: apskritis, plural: apskritys), and further subdivided into sub-districts (singular: valsčius, plural: valsčiai).
The 23 districts of inter-war Lithuania were:
Alytus
Biržai
Kaunas
Kėdainiai
Klaipėda *
Kretinga

Marijampolė
Mažeikiai
Pagėgiai *
Panevėžys
Raseiniai
Rokiškis

Šakiai
Seinai
Šiauliai
Šilutė *
Tauragė
Telšiai

Trakai
Ukmergė
Utena
Vilkaviškis
Zarasai
The capital city of each district was the same as the name of the district, with the exception of Seinai (capital city was Lazdijai) and Trakai (capital city was Kaišiadorys), because the cities of Sejny and Troki were in Poland at that time.
The former Prussian territory of Memel (Ger. Memelland) became an autonomous part of Lithuania under the Memel Statute in January, 1923. It comprised the three districts of Klaipėda (Ger. Memel), Pagėgiai (Ger. Pogegen), and Šilutė (Ger. Heydekrug). This area was re-annexed by Germany in March 1939.
---
JewishGen Database Sharing:
Because of overlapping political borders over time, some regions are shared with other JewishGen databases.
---
Last Update: Aug 31 2015